AVVISO A SOSTEGNO DEI PROGETTI DI RICERCA INDUSTRIALE E SVILUPPO SPERIMENTALE 2020

The aim of the project is to define, study and implement an automotive assisted parking system in a prototype form. This type of system is able both to automatically identify free parking spaces near the car while driving, and to independently perform parking maneuvers without involving the driver.
Il progetto ha come obiettivo la definizione, lo studio e l'implementazione in forma prototipale di un sistema automotive per parcheggio assistito. Questa tipologia di sistemi è in grado sia di individuare automaticamente parcheggi liberi in prossimità della vettura durante la guida, sia di eseguire autonomamente le manovre di parcheggio senza coinvolgere il guidatore.
Art si è dotata di una camera anecoica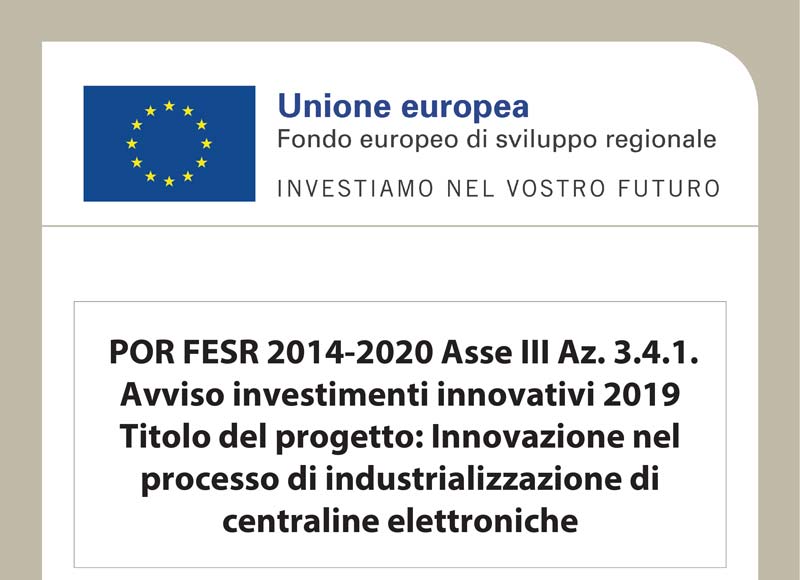 ART grazie alla partecipazione al bando POR FESR 2014-2020 Asse III Az. 3.4.1. Avviso investimenti innovativi 2019 Titolo del progetto: Innovazione nel processo di industrializzazione di centraline elettroniche si è dotata di una camera anecoica.
ART thanks to the participation at POR FESR 2014-2020 Asse III Az. 3.4.1. Innovative investments notice 2019 Project title: Innovation in the industrialization process of electronic control units is equipped with an anechoic chamber.