PROCESSO 4.0 PER UN IMPRESA ELETTRONICA DEL SETTORE AUTOMOTIVE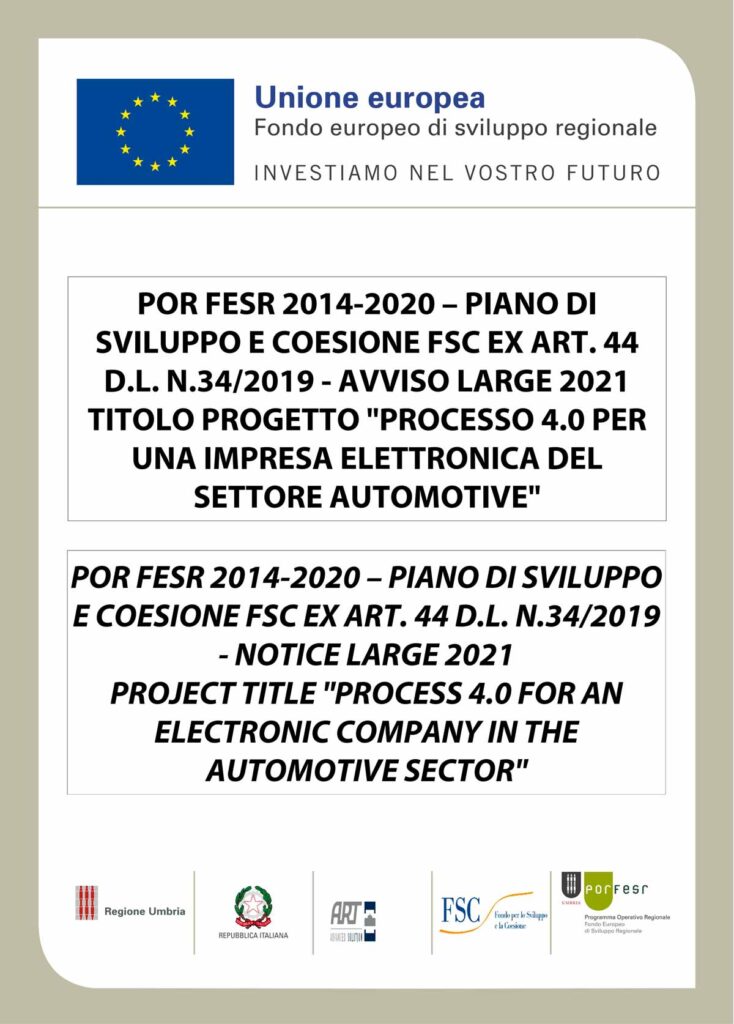 The investment represents an increase in the company's technological capabilities and has made it possible to apply innovative technologies that are functional to the company's ongoing technological and digital transformation into Industry 4.0. The project is consistent with the area of specialization identified in the Research and Innovation Strategy for Intelligent Specialisation RIS 3: INTELLIGENT FACTORY by means of the development of technologies and solutions to improve the ability of modern factories to be flexible and efficient, in order to respond rapidly and appropriately to any changes as needed by market dynamics. This investment completes the company's journey towards the creation of a truly intelligent factory. This project has enabled ART to increase its efficiency with a consequent reduction in production time and costs.
L'investimento ha rappresentato un incremento della dotazione tecnologica dell'azienda e ha consentito di applicare tecnologie innovative, funzionali alla trasformazione tecnologica e digitale in atto dell'impresa in chiave Industria 4.0. Il progetto è coerente con l'ambito di specializzazione identificati nell'ambito della Strategia di Ricerca e Innovazione per la Specializzazione Intelligente RIS 3: FABBRICA INTELLIGENTE sviluppando tecnologie e soluzioni per migliorare la capacità delle moderne fabbriche di essere flessibili ed efficienti, allo scopo di rispondere in modo adeguato ai cambiamenti richiesti dalle dinamiche del mercato. L'investimento permette di completare il percorso dell'azienda verso la realizzazione di una vera e propria fabbrica intelligente. Il presente progetto ha consentito ad ART di aumentare la propria efficienza con una conseguente riduzione dei tempi e dei costi di produzione.

AVVISO A SOSTEGNO DEI PROGETTI DI RICERCA INDUSTRIALE E SVILUPPO SPERIMENTALE 2020
The aim of the project is to define, study and implement an automotive assisted parking system in a prototype form. This type of system is able both to automatically identify free parking spaces near the car while driving, and to independently perform parking maneuvers without involving the driver.
Il progetto ha come obiettivo la definizione, lo studio e l'implementazione in forma prototipale di un sistema automotive per parcheggio assistito. Questa tipologia di sistemi è in grado sia di individuare automaticamente parcheggi liberi in prossimità della vettura durante la guida, sia di eseguire autonomamente le manovre di parcheggio senza coinvolgere il guidatore.
Motortec S.p.A. and an industrial partner acquire 100% of the capital of ART S.p.A. to support and sustain the company's planned growth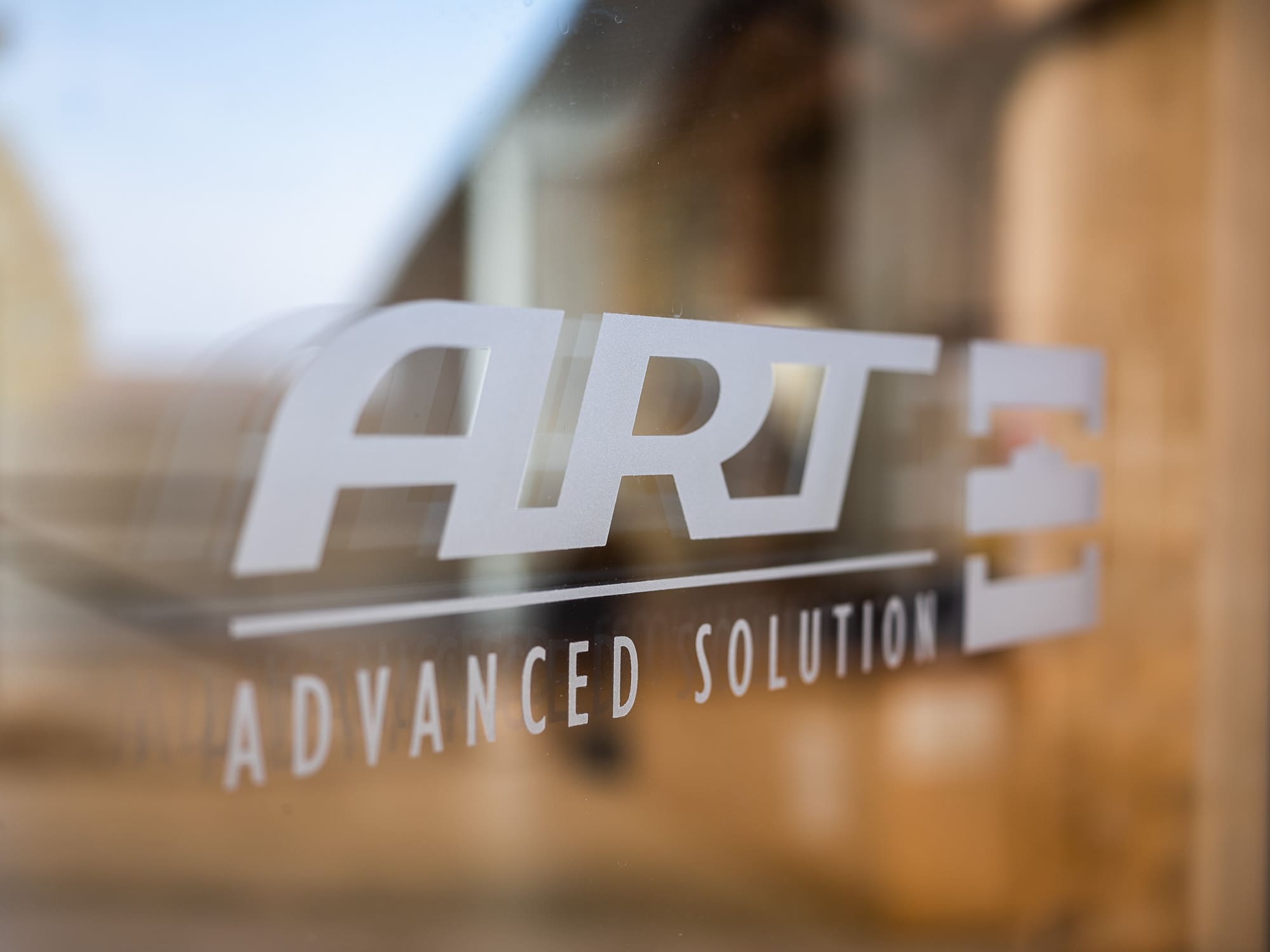 Passignano sul Trasimeno, 14 September 2022
ART, Italian leader in the supply of infotainment systems for luxury cars, looks to the future on the basis of the excellent results achieved in recent years and is strengthened by the entry of new partners, Motortec and Avio. The company's objective is to continue along its path of growth through the continuous development of cutting-edge technological solutions, confirming its position alongside the main manufacturers of luxury sports cars. At the same time, ART sold to Avio its participation in Temis, a company of the group which is active in the supply of services and products in the aerospace sector.
Motortec S.p.A., a private investment entity that is promoted by The Equity Club and counts among its participants some of Italy's leading entrepreneurial families and Mediobanca, is entering Art's capital with a 95% majority stake. The selling shareholders will then be reinvesting in the majority stakeholder, which will continue to support the company's development.
Avio S.p.A., an Italian aerospace company listed on the Euronext Star segment (ticker AVIO), is entering the company's capital as a minority shareholder with a 5% stake.
Founded in the early 2000s from the intuition of Giancarlo Luigetti, a historic figure in Italian motorsport, and based in the evocative Villa del Pischiello in Passignano sul Trasimeno, ART is today one of Italy's leading suppliers of connected infotainment systems and digital cockpits for luxury sports cars. ART combines skills and professionalism to innovate and produce systems with high technological content, thus providing customized and unique solutions.
The company counts among its customers the main Italian and international manufacturers of super sports cars, who recognize the Umbrian company's excellent technical and technological skills, combined with a very high level of customer care. With around 200 employees and a turnover of over 35 million Euros, ART represents a Made in Italy excellence capable of competing with the large multinational groups active in the sector.
Motortec and Avio will support ART in the next phase of growth, leveraging a number of clearly identified key factors such as (i) the backlog contracted with major customers, (ii) the entry of new customers thanks to the great product development work done in recent years, and (iii) the diversification of target markets by leveraging the company's technological expertise.
Francesco Ortix, ART's CEO, commented: "We are delighted to partner with Motortec and its management team and to embark on a new phase in the history of our company, continuing our path of growth and strengthening our skills. This important transaction puts us in the best position to address and achieve the goals we have set for the coming years and to continue to develop ART here in Umbria, in our Pischiello".
Roberto Ferraresi and Gianmarco Gandolfi, respectively Managing Director and Senior Partner of The Equity Club commented: "The investment in ART represents the seventh investment for The Equity Club and confirms our distinctive ability in scouting for Italian excellences with outstanding growth prospects. We are proud to start this journey with ART, supporting the company in its path of growth as well as in the expression of its full potential thanks to its high-tech skills and distinctive client focus".
Giancarlo Luigetti, who will hold the position of Honorary President, confirms his satisfaction for this important step undertaken by ART, which is functional to the growth of the company and of all those who, in over 10 years, have contributed to making ART a leader in its sector, and adds "we are very happy with this operation and know that we have identified the ideal partner to support the company in its next chapter of growth".
Eugenio Razelli, Enrico Loccioni, Roberto Ferraresi. Gianmarco Gandolfi and Alessandro Agosti are joining ART's board of directors, flanking the current directors Francesco Ortix, Alex Fattorini and Domenico Bordone.
Pedersoli Studio Legale, KPMG and De Candia Associati assisted Motortec in the legal, financial and tax aspects. Studio Legale Mazzi and Studio Legale Associato of the lawyers Marco Lodovichi and Nicolò Lodovichi acted as legal advisors to the selling shareholders, Studio Barbarisi e Associati and Studio Rossi Giuliani handled the tax aspects and DGPA & Co. handled the financial aspects. Grimaldi Studio Legale assisted Avio, which also availed itself of the in-house legal team, for the legal aspects. The notary activities related to the transaction were handled by Studio Notai Associati Ricci e Radaelli.
Contact us:
info@artgroup-spa.com