ART SKILL ACADEMY: A space where corporate culture flourishes.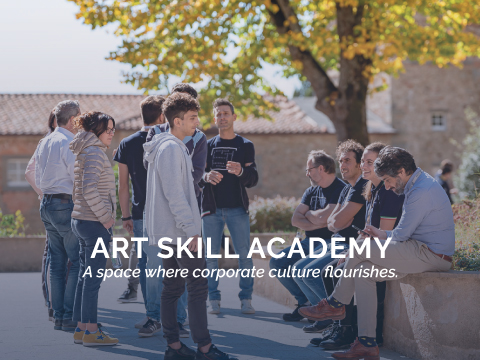 ART is a fast-growing company, and in the last three years alone it has seen a doubling of its workforce. This has highlighted the need to adopt a new approach towards the continuous development of People.
In this brief interview with Emanuela Bernardini Head of Organization Development and
Andrea Narciso Head of Innovation Department, let's explore the project ART SKILL ACADEMY.
1- What is the project ART Skill Academy?
Rather than a project, we will call it a journey: a journey that has lead us a long way from its beginnings and that is now beginning to bear fruit. In the last three years our company has seen an exponential increase in personnel, which, combined with the changing environment in which we live, is making it necessary to develop certain best-practices including the need for lifelong learning. Today more than ever, it is not only professional qualifications that are important, but increasingly, the human qualities that make us act as a cohesive and united team.
ART SKILL ACADEMY has as its primary objective to train People to deal with uncertainty and complexity. ART is experiencing a moment of development and transformation, which will also affect the work organization model. In order to make this growth sustainable for everyone, ART is providing its People with a space and a place where they can meet and grow also through the exchange and integration of diversity.
2- Who is the initiative aimed at?
All of us ART employees, the particularity of this initiative is precisely that it seeks to involve as many people as possible. We have always believed in the need to create a space where people can meet and grow, and this initiative is relevant to ART but above all to the people who populate it. We seek to provide those tools that allow the individual to grow
and then make our orga
nization stronger and more adaptive to the changes that are our constant.
3- What courses are planned?
Academy has two souls, the technical soul (Tech ART) and the human soul (Human ART). The technical experience is aimed at sharing not only what we do and how we do it, but also why we do it: the essence of doing in ART. The human experience is aimed at the Person, it is designed to make the culture that binds us as a team flourish. The Human catalogue is already structured, it includes 11 courses, one of which has been chosen by the company for everyone: "Proactive Mindset – Training for uncertainty and complexity".
4- What are the benefits a person can gain from participating in the various courses?
This, we believe, is the question we feel happiest to answer. We hope and, we firmly believe, that participation in these initiatives is a first step towards the cultural changes that needs to be promoted in ART and that can be fostered by internalizing the concept of shared responsibility and the culture of error. Strengthening the workforce to consolidate the company's solidity, a path that has people at its heart and, first and foremost, the quality of their lives. A company is neither better nor worse than those who work in it, it is an act of responsibility towards our community.
Don't miss our updates, keep following us on our Linkedin page.
Contact us:
info@artgroup-spa.com
Art si è dotata di una camera anecoica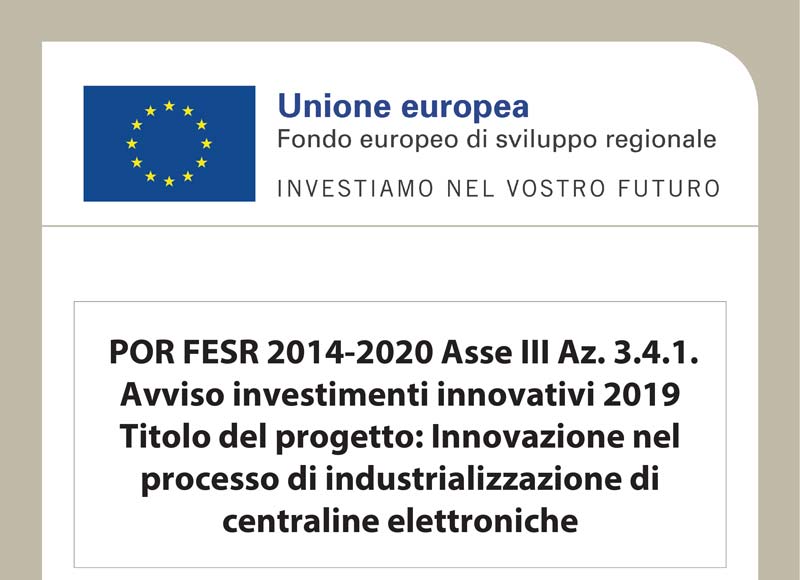 ART grazie alla partecipazione al bando POR FESR 2014-2020 Asse III Az. 3.4.1. Avviso investimenti innovativi 2019 Titolo del progetto: Innovazione nel processo di industrializzazione di centraline elettroniche si è dotata di una camera anecoica.
ART thanks to the participation at POR FESR 2014-2020 Asse III Az. 3.4.1. Innovative investments notice 2019 Project title: Innovation in the industrialization process of electronic control units is equipped with an anechoic chamber.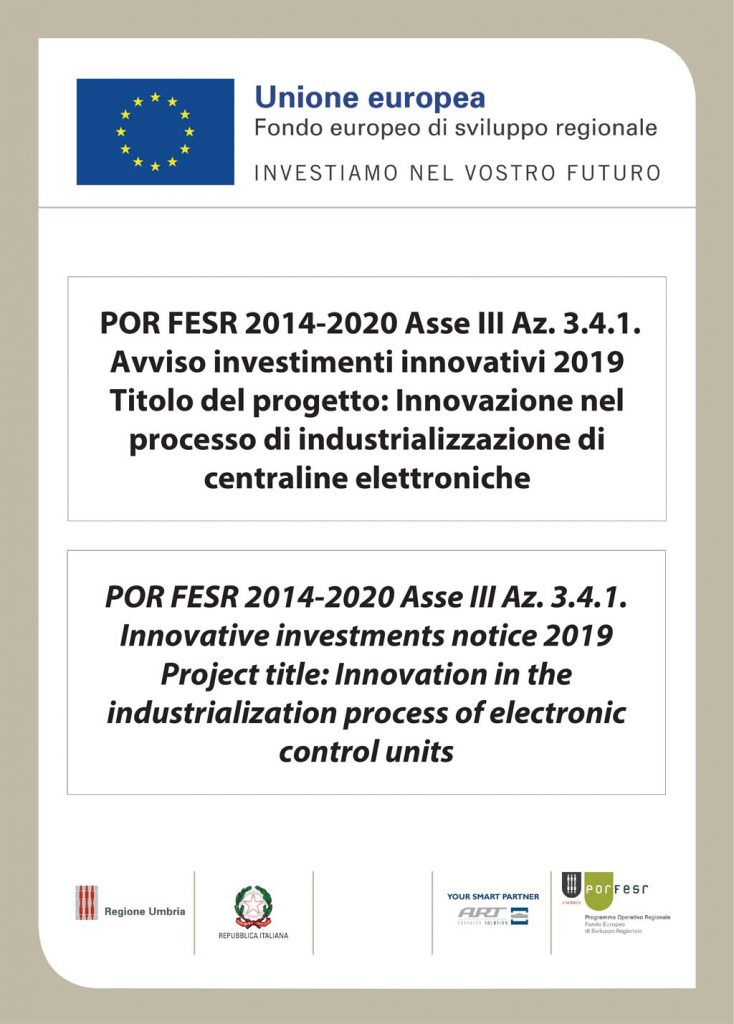 LIS system by ART improves the driving experience of Lamborghini Huracán Evo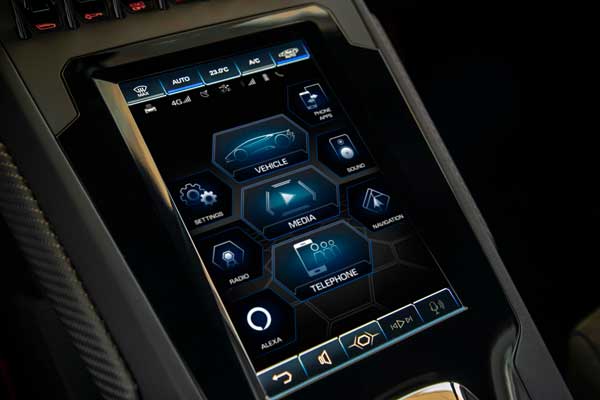 Technology, interconnectedness, diagnostics: LIS was designed by the Umbria-based company, leader in the production of high-performance electronical devices.
Passignano sul Trasimeno (PG), 31 March 2021 – A partnership devoted to innovation and a system of connected infotainment offering the most demanding drivers an immersive, intuitive and highly technological experience, which also maintains ease of use while driving.
ART, a company based in Umbria working towards the design of high-quality and high-performance electronical products in the automotive, aerospace, motorsport and railway sectors, is boosting Lamborghini's infotainment system with an important upgrade, which has been installed in the new Huracán EVO models since the beginning of 2021.
Lamborghini Infotainment System (LIS) offers passengers more flexibility and freedom in the management of centralized systems such as infotainment, navigation, comfort, safety and entertainment.
And that's not all: with its integrated Internet connectivity, LIS can offer new features to drivers, such as the gathering of car data, including IoT sensors, diagnostic services and user settings. Features for the monitoring of real-time traffic (Live Traffic), software updates and Amazon's personal assistant Alexa are also offered.
The integration of Alexa ensures an immersive experience within the vehicle, a key aspect in the near future. Cooperation with Amazon fuses an innovative vision with new tools and techniques, to make consumer experience increasingly rich and interactive.
With LIS system by Art, car owners improve their driving experience, being able to directly access all Amazon services using their voice profile. Drivers can also choose their favorite music, set their destination on the navigation system, set air conditioning temperatures, interior lightning and seat heating, make a phone call and much more.
These connected services are innovative and projected into the future, to satisfy the needs of the global automotive industry which looks to increasingly intelligent products on vehicles, to improve consumer comfort and safety.
With the new LIS system, OTA (Over The Air) software updates can be executed remotely by the OEM (Original Equipment Manufacturer), without the need to use after-sale service. This ensures a constant and punctual update in line with the functionality of the car.
The most important information about the state of the car are sent in real-time to a back-end cloud and the raw data are processed to give the user new services, from the monitoring of the vehicle to the speed warning, in addition to predictive maintenance as well as many other features.
Privacy of users is always taken into account, so that the owner of Lamborghini Huracán EVO can freely choose which features to use.
LIS can also be used on the racetrack, including a performance-oriented telemetry function, which offers the pilot an improved driving experience. Such as the possibility to record routes, maps, as well as video and audio of the race sessions. The pilot can also visualize live notifications about split-times and laps directly on the map, to analyze data and share it together with other results on dedicated apps.