ART and Anna Anchino at the National AIDP Congress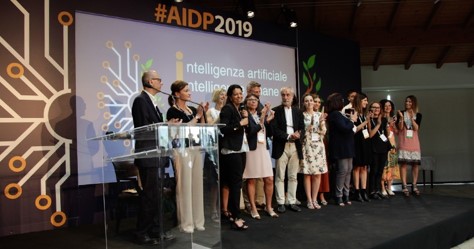 On June 7th and 8th the National AIDP Congress took place in Assisi. AIDP – which stands for Italian association for the management of personnel – has allowed for many companies and representatives from both the industrial and academic worlds to discuss artificial intelligence and its value in HR management.
Anna Anchino, director of HR, represented our company and had the honour to participate as part of the AIPD AWARD commission, while also giving a speech on the importance of people in an innovative company like ART.
"ART and I grew up together", she tells us, "I have lived with this company since the beginning, witnessing its evolution into the ART we know today: a company in constant growth , that was able to swell from just 3 people to the almost 200 people that work here now. Such significant growth has required particular effort also from the standpoint of HR management. It is not just by chance that we hold fifteen interviews per week: this number goes to show how very many people have shared the vision of ART in the past eighteen years. Participating in this congress is yet another demonstration of all this, since my speech was entirely dedicated to the way ART interprets relationships with the people who help the company grow."
Anna also underlines how "the AIDP congress is the most important people management event in Italy. This year the AIDP prize was awarded to a robotics project focused on education, with work groups integrated within schools. This relationship between schools and companies is also fundamental to ART in its vision, so much so that AIDP organised a Master class for HR management, specifically on the partnership between industry and schools, right here in our headquarters of Pischiello."
Art cultivates artificial intelligence with a human face, a humanism of work, a philosophy which was well received by Capital magazine, which mentioned ART and Anna Anchino in a recent article on the management of human resources in Italy.