ITS Umbria Academy announces partnership with Rightware and ART SPA for the creation of a Kanzi Learning Lab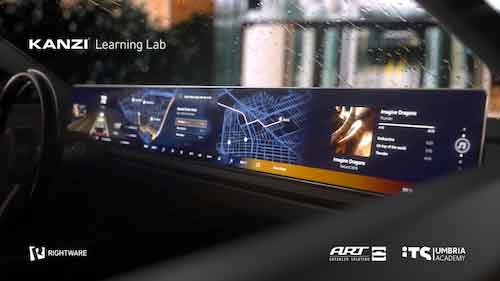 Passignano sul Trasimeno, 28 November 2022
ITS Umbria Academy has signed an important partnership with Rightware, a Finnish software company, and ART SPA, an Italian automotive infotainment manufacturer, to develop the institute's training programs.
The first implementation stage of this project focuses on creating HMIs with the Kanzi One development environment, specifically for the automotive sector. To support this mission, Rightware granted ITS Umbria software licenses and assistance to create a tailored training program in a new Kanzi Learning Lab at LABOMEC, the mechatronics laboratory of ITS Umbria in Foligno.
Thanks to didactic co-design, the lectures and technical assistance provided by ART allowed ITS students to follow a training course delivered according to the typical approach of the application didactics of the Higher Technological Institutes, which envisages close cooperation between schools and the business world.
ITS students thus had the opportunity to participate in the realization of advanced research projects, learning basic concepts related to key practices in UI Design/Interaction, which constitute a focal point for collaborative study and research with the automotive industry in the area of user interface design and development.
The ITS Umbria class involved in the project showed great appreciation for the project, with positive feedback from the students who recognized and highlighted the added value of this training experience related to the use of the industry-standard Kanzi One HMI tool. These skills will prove to be a very useful resource for their professional development in the working world.
Thanks to the success of this first training experience and the advanced stage of implementation of the Kanzi Learning Lab at LABOMEC, ITS Umbria Academy, in agreement with Rightware and ART, intend to continue the program of collaboration, to give continuity and further impetus to the educational models implemented by ITS Umbria Academy, in this case, in the mechatronic and digital fields.
ITS Umbria
ITS Umbria is a post-diploma academy in applied sciences and technologies promoted by the Ministry of Education and the Umbria Region, along with the main companies in the area. At the end of the two-year program, through a modern and practical educational system aimed at technological innovation, it offers its students a very high level of employment opportunities.
ART Spa
Founded in the early 2000s and based in the evocative Villa del Pischiello in Passignano sul Trasimeno, ART is today one of Italy's leading suppliers of connected infotainment systems and digital cockpits for luxury sports cars. ART combines skills and professionalism to innovate and produce systems with high technological content, thus providing customized and unique solutions. The company counts among its customers the main Italian and international manufacturers of super sports cars, who recognize the Umbrian company's excellent technical and technological skills, combined with a very high level of customer care. With around 200 employees and a turnover of over 35 million Euros, ART represents a Made in Italy
Rightware
Rightware is the pioneering provider of automotive graphics software tools and services. We are uniquely positioned, with a heritage in gaming, graphics, and UI development, and with a dedicated focus on the automotive industry. We help automakers become highly efficient and creative with no limits. With Kanzi, the traditional HMI is transformed into a real Signature UI. Rightware is headquartered in Finland and has a presence in China, France, Germany, Italy, Japan, South Korea, UK, and USA. As a ThunderSoft company, our combined skills and assets allow us to deliver fully integrated HMI solutions, engineering support, and design services. Kanzi is the market-leading automotive UI tool, trusted by over 50 automotive brands across the globe.
Contact us:
info@artgroup-spa.com