ART and its collaboration with ITS Umbria Academy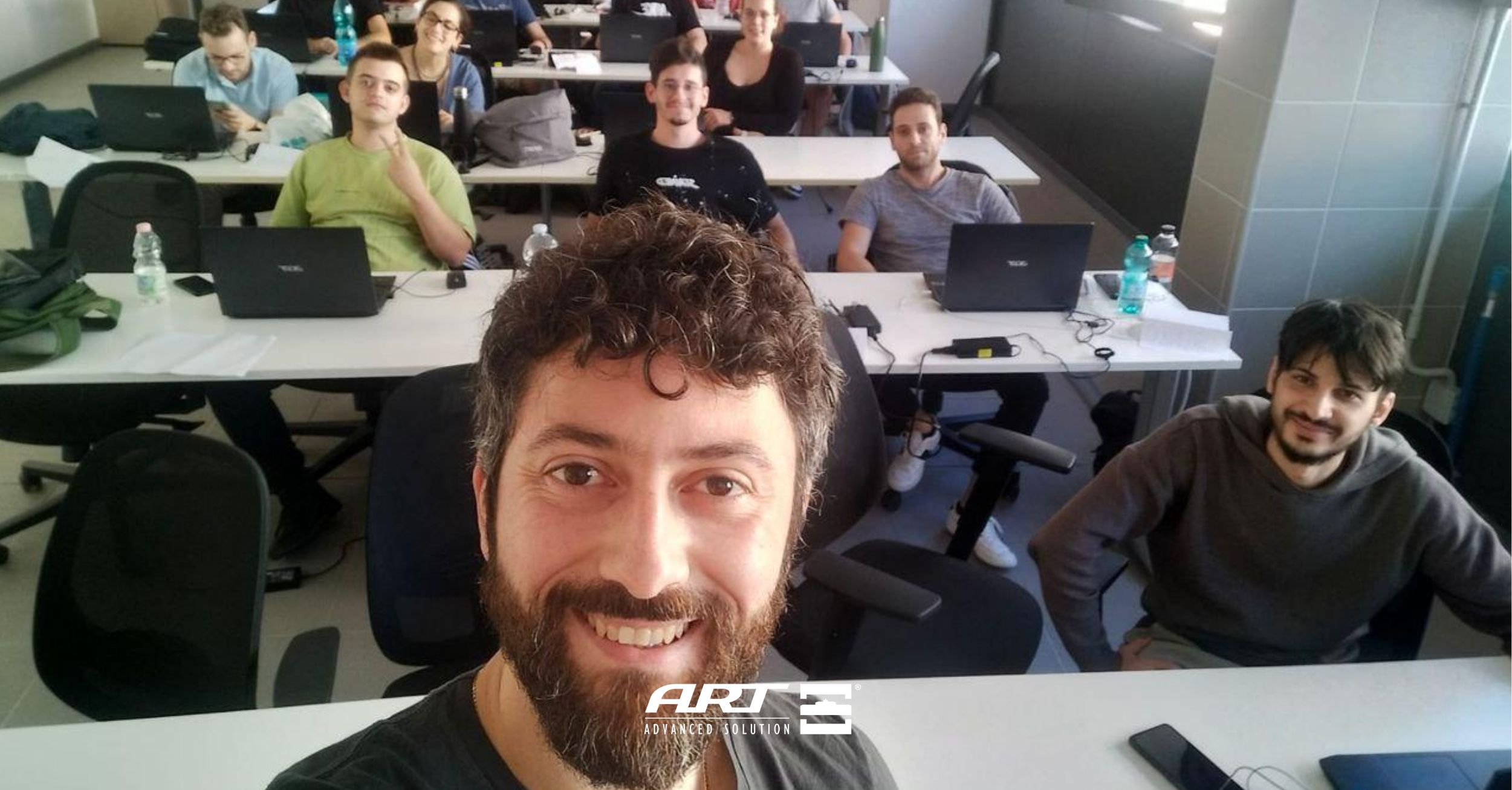 Digital Graphics: rendering, compositing and color management. ART and its collaboration with ITS Umbria Academy.
ART continues its collaboration with ITS Umbria Academy. Last October 30, an ART lecture was held in Perugia as part of the "Digital Graphics" module. The module was about "rendering, compositing and color management" in 2D and 3D graphics, while the workshop activity focused on the use of the 3D graphics software "Blender." A subject that thanks to our skills as HMI designers we are well acquainted with.
Starting with some general considerations on best practices of modeling and lighting in both 2D and 3D digital environments, they initially explored the differences between mesh-based and spline-based modeling flows, and the target markets for which one is preferable over the other. In general, this allowed the students to get an idea about their intended choice of career, and so it helped them to understand whether to gravitate more toward art or industry. For the students, it was also an opportunity to check that their aspirations aligned with and were consistent with their expectations so as to facilitate future study and further study choices.
A second step was then to examine and observe some frames of video games and movies and comment on the feelings elicited by the author, in order to understand the experience elicited. The exercise of observing and analyzing graphics is a fundamental practice in design. This then led on to an in-depth look at the use of color in film imagery and how its careful and specific use subtly guides emotions and feelings of those who experience a scene, game, software or product in general. Various examples of color management were given, as well as the feelings that such colors are intended to elicit, and were then discussed. Various more or less standardized color pairings were then explored and the importance of using the "color wheel" as a fundamental part of the designer's arsenal was introduced.
Finally, the practical/laboratory session was devoted to creating and implementing in the Blender program a project inspired by a video game or movie that presented what had been analyzed in detail in the first part of the lecture. Here we gave space to our favorite part, the part where students presented their different projects and discussed together so as to develop possible improvements.
ART actively participates in these courses so as to help young people in their career choices and to involve them in what it is like to be an active professional within the company. We try to make them understand not only the theoretical part but also the experiential part as well. This latter is more related to soft skills and we try to make them understand how important it is to share projects and details and to work as a team! Our hope is always to engage, build and dream together!
To ensure you don't miss out on our updates, keep following us on our Linkedin page.
To contact us email us at: info@artgroup-spa.com